How do I participate in the online draftroom?
This article explains what Poolies need to do to participate in an online Draftroom and how they make their picks once the draft has started.
If you are an Admin wanting to know how to setup a draftroom and run your draft - please see this article.
These are the steps you need to take to participate in the online Draftroom:
1. You must have an OfficePools account. If your pool Admin sent you an invite for the pool, you would have created one as part of the process. If your pool Admin created a team in the pool for you, they should have entered your email address into the team... that way the pool will be on your Dashboard after you sign-in to OfficePools with the same email address. To create an account under that same email address, you can Register here.
2. Once your OfficePools account is created AND you have a team created in the pool: Sign-in to OfficePools and select the pool from your personal Dashboard to enter it.
OPTIONAL - 3. If you want to create a Watchlist prior to the draft to help keep track of players that you are interested in, click on the Edit Watchlist icon.
OPTIONAL - 3 (Cont.) You can build your watchlist by clicking on the 'eye' icon to the left of each player's name. You can re-prioritize the Watchlist at any time by dragging the arrows to the left of the player's name. If you cannot make your pool's draft, be sure to change the "Auto pick from watchlist" toggle to ON. The Auto Pick will take the next player on your Watchlist, but if that player's position requirement is filled - it will take the next player on the list from an outstanding position.

4. When your pool is ready to draft, click on the Draftroom icon

5. When it is your turn to pick, the "NOW" indicator will be next to your name in the team list on the left side. There will also be a message that says "It's your pick!". The timer will begin to countdown from the time that your pool admin set it to start from.


6. To make your selection, click on the Select finger to the left of the player's name that you want to draft. You'll see that any drafted player's have the drafting team's name in replace of the Select finger.

7. If your pool has a Position Mix requirement. You can keep track of where you are with the status below the list of players you have drafted.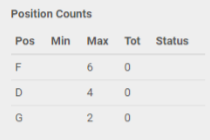 8. If there comes a point in the draft where you want the selection's to be made from your Watchlist, just toggle the "Autopick from Watchlist" button to ON.